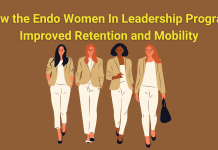 It's rare to see a commercial executive devoted to L&D programs. It's even more rare to see an entire executive team supporting and driving new L&D initiatives. When that extra degree of support is present, you see a tangible increase in impact. The Endo ASPIRE Women in Leadership Program is a perfect example.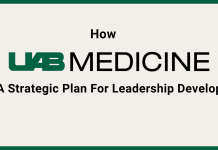 For this article, Matthew Painter Ph.D., the Director of Leadership Development at UAB Medicine (the University of Alabama at Birmingham), shared his process for putting together a strategic plan. He broke down his entire framework and shared insights on how to apply it.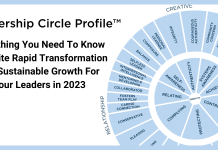 Team up with a LEADx expert to deliver and train the LCP 360.   JTNDYSUyMGhyZWYlM0QlMjJodHRwcyUzQSUyRiUyRmxlYWR4LnVicGFnZXMuY29tJTJGbGVhZGVyc2hpcC1jaXJjbGUtcHJvZmlsZSUyRiUyMiUzRSUzQ2J1dHRvbiUyMGNsYXNzJTNEJTIycmVxdWVzdC1kZW1vLWJ0biUyMGJ1dHRvbiUyMiUzRUJvb2slMjBBJTIwU3RyYXRlZ3klMjBDYWxsJTNDJTJGYnV0dG9uJTNFJTNDJTJGYSUzRQ==JTNDaW1nJTBBc2l6ZXMlM0QlMjIlMjhtYXgtd2lkdGglM0ElMjAzNzUwcHglMjklMjA0MHZ3JTJDJTIwMTUwMHB4JTIyJTBBc3Jjc2V0JTNEJTIyJTBBaHR0cHMlM0ElMkYlMkZjZG4ubGVhZHgub3JnJTJGd3AtY29udGVudCUyRnVwbG9hZHMlMkYyMDIyJTJGMTIlMkZsZWFkZXJzaGlwLWNpcmNsZS1zbS5wbmclMjA0ODB3JTJDJTBBaHR0cHMlM0ElMkYlMkZjZG4ubGVhZHgub3JnJTJGd3AtY29udGVudCUyRnVwbG9hZHMlMkYyMDIyJTJGMTIlMkZsZWFkZXJzaGlwLWNpcmNsZS1sZy5wbmclMjA3NTB3JTJDJTBBaHR0cHMlM0ElMkYlMkZjZG4ubGVhZHgub3JnJTJGd3AtY29udGVudCUyRnVwbG9hZHMlMkYyMDIyJTJGMTIlMkZsZWFkZXJzaGlwLWNpcmNsZS1zbSUyNTQwMngucG5nJTIwOTYwdyUyQyUwQWh0dHBzJTNBJTJGJTJGY2RuLmxlYWR4Lm9yZyUyRndwLWNvbnRlbnQlMkZ1cGxvYWRzJTJGMjAyMiUyRjEyJTJGbGVhZGVyc2hpcC1jaXJjbGUtbGclMjU0MDJ4LnBuZyUyMDE1MDB3JTIyJTBBc3JjJTNEJTIyaHR0cHMlM0ElMkYlMkZjZG4ubGVhZHgub3JnJTJGd3AtY29udGVudCUyRnVwbG9hZHMlMkYyMDIyJTJGMTIlMkZsZWFkZXJzaGlwLWNpcmNsZS1sZyUyNTQwMngucG5nJTIyJTBBYWx0JTNEJTIyTEVBRHglMjBQcmV2aWV3JTIwSW1hZ2VzJTIyJTNFJTNDZGl2JTIwY2xhc3MlM0QlMjJsb2dvLWltYWdlJTIwYWNjZW50dXJlJTIyJTNFJTNDJTJGZGl2JTNFJTBBJTNDZGl2JTIwY2xhc3MlM0QlMjJsb2dvLWltYWdlJTIwbndtJTIyJTNFJTNDJTJGZGl2JTNFJTBBJTNDZGl2JTIwY2xhc3MlM0QlMjJsb2dvLWltYWdlJTIwYmlvaGF2ZW4lMjIlM0UlM0MlMkZkaXYlM0UlMEElM0NkaXYlMjBjbGFzcyUzRCUyMmxvZ28taW1hZ2UlMjBhdmFzdCUyMiUzRSUzQyUyRmRpdiUzRSUwQSUzQ2RpdiUyMGNsYXNzJTNEJTIybG9nby1pbWFnZSUyMGRlbHRlayUyMiUzRSUzQyUyRmRpdiUzRSUwQSUzQ2RpdiUyMGNsYXNzJTNEJTIybG9nby1pbWFnZSUyMGVzdGVzJTIyJTNFJTNDJTJGZGl2JTNF The Leadership Circle Profile (LCP) 360 assessment is now the most sought-after...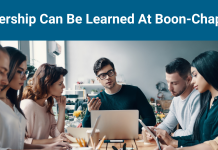 How does a small business build a leadership development program that rivals a Fortune 500 program?  Texas-based Boon-Chapman accomplished exactly that feat. Boon-Chapman has been an innovator in the insurance administration industry since 1961. At about 425 employees and 120 leaders, they're a small company. In 2020, they researched, created, and launched their people development program. And they did so from scratch. They call it Boon-Chapman University (BCU).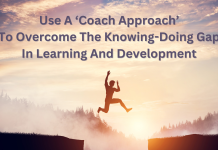 The struggle to overcome the "knowing-doing gap" is a familiar story with a predictable ending:  You create and deliver a top-notch "Effective Feedback" program for your new managers. They leave training inspired, equipped with new insights, and motivated to practice. But as the weeks go by, nothing changes. Your managers don't give effective feedback. A gap opens up between what your managers know and what they apply. New habits never form.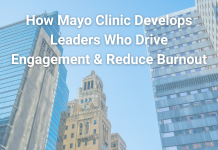 What would happen if leadership development teams hired their best leaders? In marketing, this "hire your best customer" tactic has started to catch on as a highly effective way to bake their customer's expertise, experience, and viewpoint into their content. The customer perspective makes their marketing content more engaging and valuable to their target audience.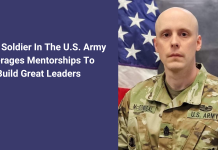 U.S. Army Course Chief of Basic Leadership 1st Sgt. Mike McGonigal can trace his career path back to a pivotal conversation with his father some 19 years ago: "When I was a young buck in the Army, I said something crazy to my dad. I told him I wanted to be just like him. And he responded, 'I absolutely want you to be nothing like me.' He said, 'I worked this hard with you so that you could always be better than me.'"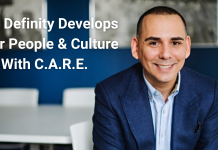 Definity Financial Corporation had a $1.6billion IPO in November of 2021, making them the biggest Canadian IPO of the year and the second largest in the history of the Toronto Stock Exchange. Though they just went public, their roots run 150 years deep, dating back to 1871 when a community of people in Kitchener, Ontario, composed a plan to protect each other during hardship.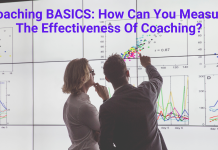 In most organizations, evidence of an effective coaching conversation is purely anecdotal. But is coaching effectiveness really something that can be measured with hard numbers? What separates the best coaches from average ones, and how does great coaching affect overall performance? And how would someone even go about collecting the data that would answer this question?