You may have noticed a LEADx Level bar at the top of your profile that looks like this:

Or you may have seen this in your progress report and leaderboard email: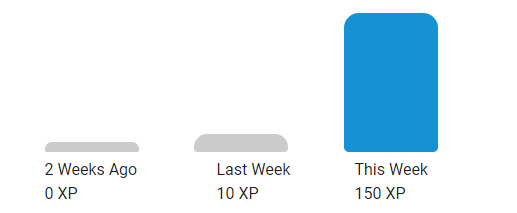 You were wondering (or at least now you ARE wondering), what is this?
LEADx levels and experience points exist to show your progress and habit-building growth for the learning you've done within LEADx. 
It's really simple…
You're awarded "Experience Points" (XP) for interacting with LEADx. 
When you acquire a certain amount of XP, you'll achieve a new level. 
You earn 10 XP by doing any of these activities:
Completing activities in your coaching plan 

Watching a video 

Listening to a podcast

Reading a book summary
To get from Level 1 to Level 2, you'll need 100 XP. So, for example, you could:
Complete four activities in your LEADx Coaching Plan (40 XP)

Watch two videos (20 XP)

Read two book summaries (20 XP)

Listen to one podcast (10 XP)

Watch one webinar (10 XP)
Every level you achieve after Level 2 will take a little bit more XP than the previous level. Level 3 takes more XP than level 2, etc.
The more you interact with LEADx, the more XP you'll gain.
Start interacting and see what you can earn!