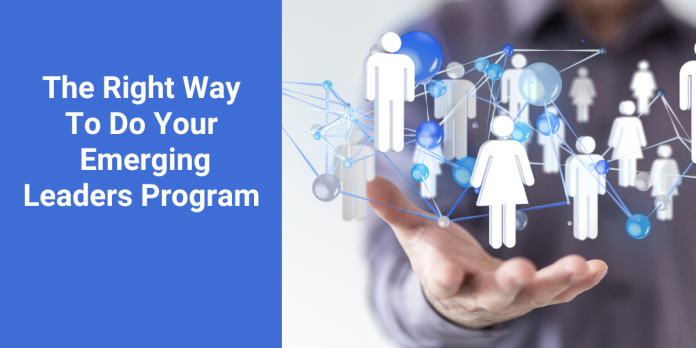 Putting together a brilliant emerging leaders program is an incredible opportunity to uplevel your career by delivering hard results. 
A strong emerging leaders program will: 
engage, develop, and retain your high-performers.

build a diverse, motivated pipeline of future leaders.

save your org a ton of money as you promote internally and fill manager turnover.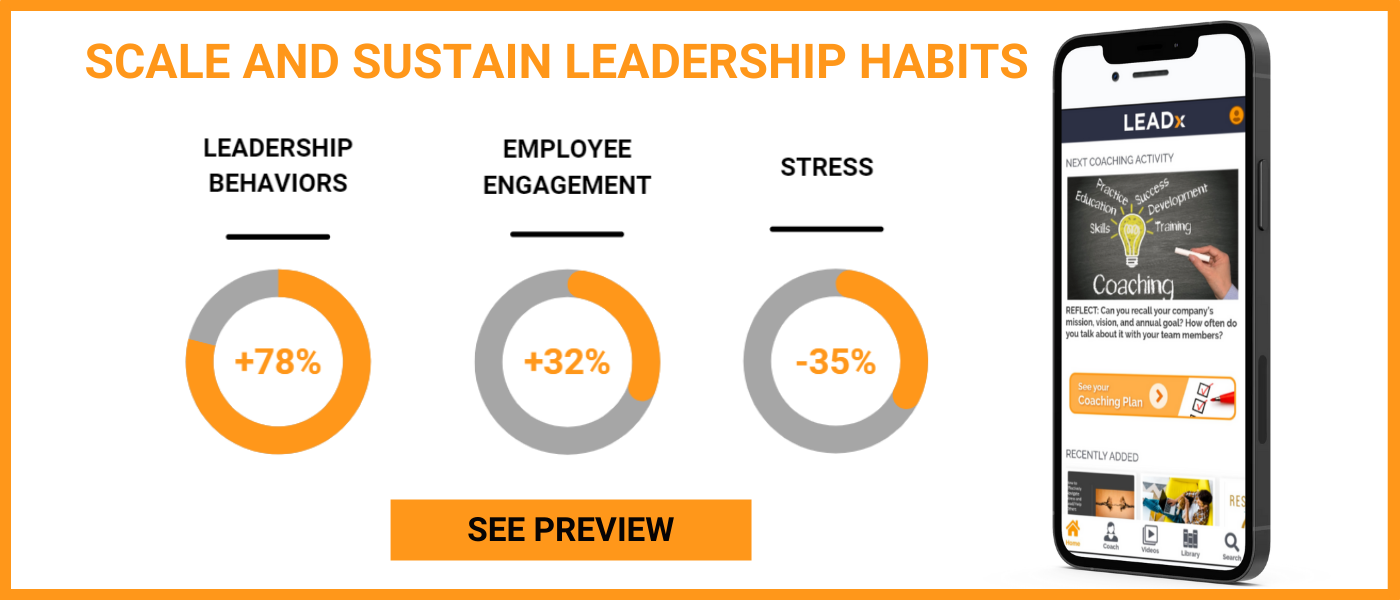 That said, building out a program for emerging leaders is a long journey and one that's riddled with obstacles and traps. There are a number of backward-thinking, poorly designed approaches to emerging leaders programs that are commonplace and even seen as best practices. Things like fourth-month selection processes with I/O psychologists and $15,000/person Ivy League college bootcamps are touted as "premiere," when in reality, they're counterproductive budget-drainers.
Instead of leaving you to forge your own journey and learn these lessons through trial and error, follow this article, which acts like a map laying out a tried-and-true method for building and executing an emerging leaders program from start to finish. Specifically, it covers three key steps: 
1) Selection
2) Curriculum
3) Delivery 
Each step covers the most common mistakes and traps that leadership development pros fall for, why they don't work, and what you should do instead.
Step 1: Selection – A Trainwreck Example from Pharma, and How to Get Yours Right 
A pharmaceutical company recently shared how they selected for their emerging leaders program, and the set-up was so starkly bad that you can use it as a map of exactly the obstacles and traps to avoid. For context, they had 1,000 sales reps and 100 sales managers. Here's what they did: 
They asked each sales manager to nominate one high-potential.

They whittled those 100 selections down to 12 nominees. 

They hired an outside talent selection I/O psychologist.

The psychologist designed a rigorous, four-month selection process. 

They took personality assessments, went through interviews, completed assignments, and finished by presenting projects to a panel.

Then, after all that, they selected eight of those 12 people. 
Here's the biggest problem with this approach: They basically took all this time and money and dumped it into rejecting and disengaging 92 of their most talented, motivated salespeople. On top of that, they wasted four months of time and energy for four of their "finalists" who didn't quite make the cut. 
When you nail selection, your process should do three things for you:

Build a diverse pipeline of prepared leaders.

The pharma company's example doesn't guarantee diversity because the managers selected and they could be biased. 

Retain talent

by training and engaging them

. They're pouring hundreds of thousands of dollars into selecting and training only eight people. If retainment is a goal, expand your pool. 

Replace management turnover.

Again, eight people does not cover the average company's manager turnover rate (which would be more like 20 seats in this case). 
Here are three more effective ways to consider handling the selection process:

Have managers select, but don't eliminate.

Odds are, managers have a good grasp on who performs well and who would do well as a manager. Instead of weeding through their 100 selections to choose 12, take all 100 and develop them. 

Have employees self-select.

Then, you might ask managers to confirm that those employees are a good fit for the emerging leader program and are at a good time in the year to handle the additional workload. 

Select the top 10% or more of talent.

Another way to select is to just take the top 10% of talent; no nominations, no weeding. 
All of these methods have something in common: They all seek to let more people in. Instead of spending your budget on selection, spend it on development. That said, regardless of your method, stay aware of how selection may interfere with diversity.
Step 2: Curriculum – Two Common Mistakes and What Works Best (Based on Real Examples)
The single most common mistake when it comes to emerging leaders program curriculum is to build a curriculum that covers skills specific to leaders. The two most common offenders are: 
Programs that resemble new manager training (like "how to give good feedback" and "how to have effective one-on-ones).

Programs that cover vague leadership topics (like "what it means to be a leader" and "transforming the org"). 
Both seem useful, but they actually fall prey to the same trap: Since emerging leaders aren't in leadership roles yet, they can't actually practice or apply what they learned on the job. And, research shows that it's through application and practice that behavior is actually changed. 
Since application is such a critical piece of curriculum selection, a strong curriculum should be built around the types of skills and topics that individual contributors can practice on the job immediately. Here are two powerful types of curriculums for emerging leaders: 
Train key competencies.

Train your emerging leaders in "leading self" competencies like self-awareness, growth mindset, and influence without authority. All of these competencies will carry over into leadership, and emerging leaders can practice them on the job every day before they become leaders. 

Train key personality-related behaviors.

Train your emerging leaders in behaviors like "following process," "standing out," and "leading the business." Similar to competency training, emerging leaders can begin to apply and practice these key behaviors immediately. 
Step 3: Delivery – In the Flow and Focused on Application
The last thing you want to do is nail your selection, choose and build a brilliant, impactful curriculum, and then throw all your hard work away with a shoddy delivery. Here are three core elements to consider as you plan out your program delivery. 
Deliver training in the flow of work.

Long retreats and intensives take up too much time, pull leaders away from their work, and place more value on the initial moment of learning than the follow-up and practice. In their place, organizations are beginning to use micro-learning and personalized nudges. By bringing training into the flow of work, you enable employees to practice on the job, pull up learnings and key concepts on demand, and you encourage behavior change by spreading learning touchpoints out over a longer period of time. 

Leverage the 3-to-1 Model.

The 3-to-1 model says that for every one formal learning exercise, employees should do at least three on-the-job application exercises. Here's an example for the topic "self-awareness." Notice how learning happens last (one-on-one and group coaching) and is one equal piece of the process. Each of these activities and learnings can happen in the flow of work and take minimal time out of emerging leaders' days. 
Week 1: Take the Big 5 personality assessment and the Hogan assessment to learn more about your personality and how it affects your style and approach at work. 

Week 2: Review and debrief your results to grow your self-awareness. 

Week 3: Apply learning on the job by creating an action plan (i.e., your high conscientiousness gets in the way of delivering candid feedback. Practice making the most of it by delivering tough feedback with empathy.) 

Week 4: Participants reflect on their practice and then attend a group coaching session to learn from each other's insights, specific challenges they faced, and examples. 
Here's an example of the 3-to-1 model spread out over 6 months. Note that this is also a great example of an emerging leader program curriculum that's immediately applicable on the job.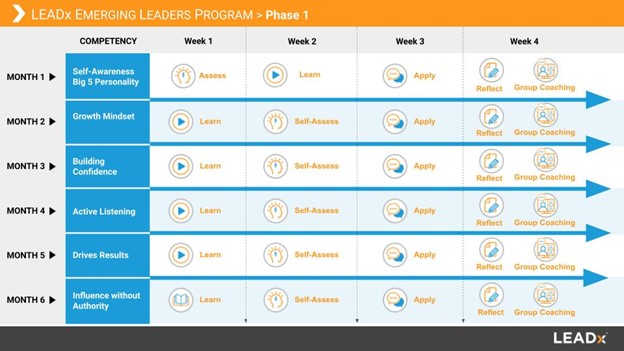 In-house cohorts, not boot camps.

Stop sending your talent off to Ivy League colleges for a $10,000-$15,000/person, 5-day boot camp. These trainings are long and focus on learnings that

research

shows most participants retain a small fraction of. Worst case, your emerging leaders will even meet talent from other organizations who will then recruit them away from your organization (this happens a lot more than you might think). Instead, leverage a cohort-based approach in-house to build up a network of support and connection between your emerging leaders. Bonus points if you use group coaching, mentoring, peer learning networks, and online forums to deepen cohort connection and to facilitate collaborative learning.  
A Great Emerging Leaders Program Is One of the Clearest Ways to Achieve Bottom Line Results
Establishing a pipeline of high-performing, well-trained, prepared-to-lead employees is one of the most valuable accomplishments for any leadership development professional. You can reduce turnover in high-performers, reduce costs of hiring externally for management-level positions, and increase the engagement of employees as you prepare more effective managers. The end result for your career? You'll deliver a big ROI, win a seat at the table with senior leadership, and grow your budget to expand and experiment with your leadership development initiatives.