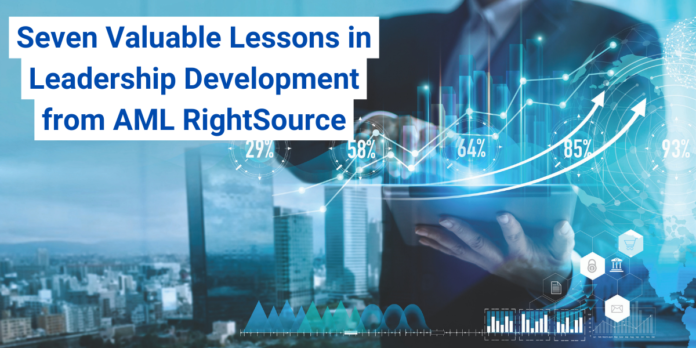 How do you build leadership development at a company that's growing and changing fast?
AML RightSource is focused on Anti-Money Laundering (AML) and financial crimes compliance solutions. Since early 2021, they've acquired five companies globally. In that time, they've expanded from a four-location North American company with about 1000 employees and 30 leaders to a 15-country company with over 3400 employees and 150 leaders.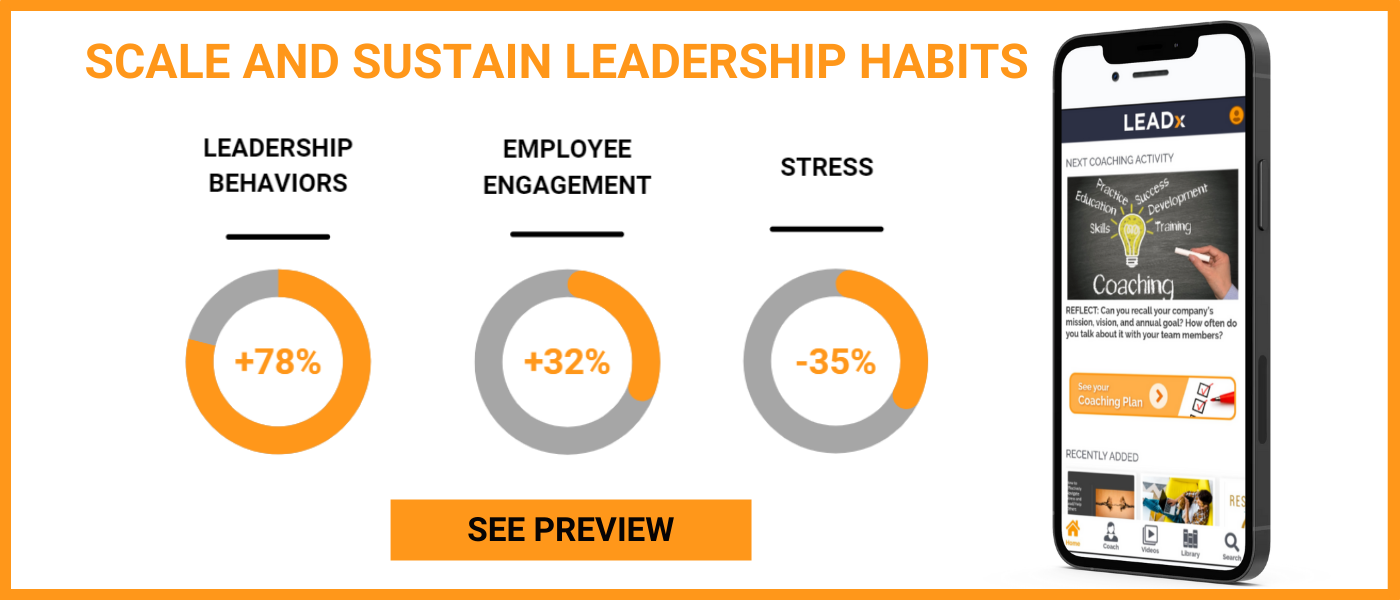 Their Sr. Director of Employee Engagement & Leadership Development, Jessie Osborne, broke down not only how they persevered through rapid growth and change, but also, more generally, how she thinks about and executes on leadership development. Her interview was full of valuable insights into what great leadership development looks like. Here are seven.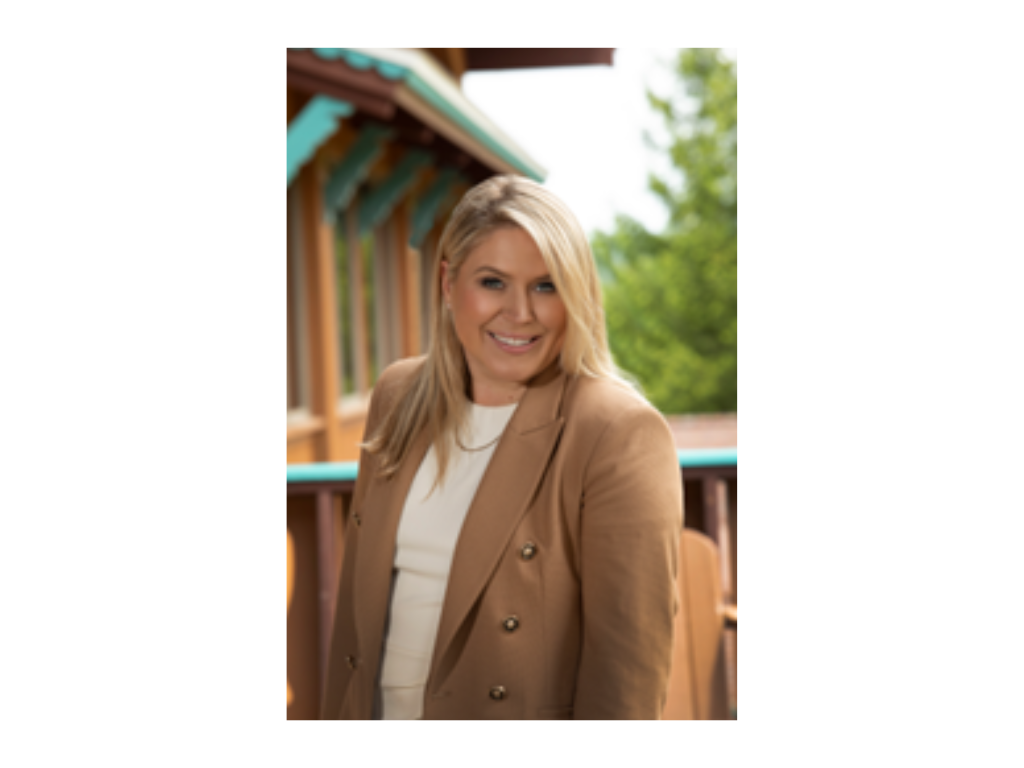 1. Start With Your Outcome
You have to move fast if you want to support and develop leaders at a rapidly growing company. But, in order to move fast without sacrificing quality, it helps to have a core purpose or outcome as your guiding light. Osborne put it this way: 
Start with outcomes. What actionable human skills or power skills does your business need your people to have? Once that's defined, build your model to fit within your business, not the other way around.
2. Move Fast and Adjust as You Go
In marketing and product development, it's common to hear how important it is to experiment, adjust, and refine as you go. But, it's much less common to hear that about leadership development. Many leadership development programs tend to be established and rolled out slowly for years before significant adjustments are made. Osborne, on the other hand, was quick to bring up the importance of an execution-first mentality: 
Don't get frustrated at the lack of budget, time, or tools at first. All three can be helpful, but not essential. The right person or team can execute a creative grassroots model well. Get out of their way and let them do it.
A great example of this is the way Osborne responded to the biggest challenge she faced when she first started developing leaders at AML RightSource—People didn't have time for training. 
I did two things: 1) I made the programs fit with the business. Two hours of formal learning per month backed with one hour of coaching and follow-up or stretch assignments. 2) I made all our programs (Except Ignite, New Manager Training) both employee- and manager-driven. Meaning, in order to be part of our Emerge program, you need to be nominated by your manager and you have to agree that you want this development at this moment in time. When we launched Emerge and Rise in February of this year, we had maybe 20 nominations for each. After two months of running the programs, we have over 350 participants enrolled. Not from an expensive internal marketing push or mandatory training, but from word of mouth.
3. Take Responsibility for Leaders' Development from Start to Finish 
Develop leaders from bottom to top, meaning emerging leaders up through executives. Many organizations develop leaders by training core skills and relevant topics. AML RightSource stood out for how deep and extensive their learner journey is. If you were to join AML RightSource as a frontline employee and work your way up, your leadership development plan would be robust and tailored to each step forward in your career.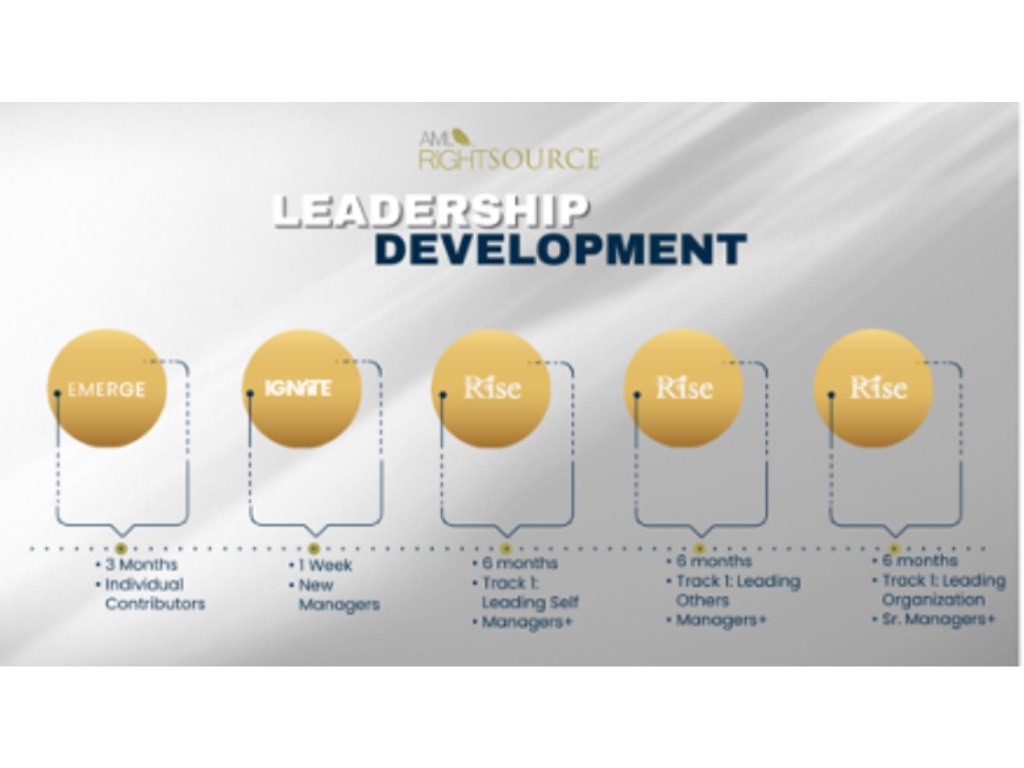 When I arrived at AMLRS, I asked every leader, "What human competencies are essential for your teams to be successful at each point of the employee cycle?" Based on the answers from those discussions, I mapped out our programs. Sometimes a topic that is touched on in Emerge is touched on again in Rise. For example, in month two of Emerge, we focus on Coaching for Performance Management, particularly around the art of asking powerful questions to create influence. In Rise we discuss this again but from the perspective of gaining self-awareness.
4. Find Solutions Unique to Your Organization 
While executing on this robust leader journey, AML RightSource is also innovating. Their Global Culture Committee (or GCC) is an incredibly unique example of form-fits-function in leadership development. The GCC was formed in response to their rapid acquisition of five companies around the globe. It's a dedicated and diverse group of global team members who serve as the change champions for the organization. Members are nominated by leadership and can accept a one-year term with an option for a second term.
Our GCC members are from all different areas and roles and get opportunities to cross-collaborate with people they normally wouldn't. GCC members also get an opportunity to create a proposal for change to deliver to our senior and executive leaders. The stretch assignments and representation members are responsible for is a unique opportunity to grow and demonstrate capabilities.
GCC team members meet for one hour a month to discuss, plan, and execute ideas for change. The ideas are collected and vetted through an open table format:
The open table is an online portal where anyone can submit their ideas. Each month, the GCC sits down, reads through the submissions, and votes on which idea to push forward. Submissions follow a format. The form asks questions like: "Does this idea affect at least 40% of the organization? If this idea was to be pushed forward, what challenges do you predict could be experienced? Who would need to be the sponsor behind this idea? Who are the stakeholders? What sort of budgetary concerns need to be considered? Does this idea help drive our organization's purpose?"
When an idea is selected, the person who came up with it can collaborate on the execution as a stretch assignment and present it to the executive team. Or, they can take the idea credit and the GCC will execute.
5. Emphasize Bottom-Up Representation and Learning through Peer Networks 
One of the best ways to develop leaders is to create a culture of learning. AML RightSource built an entire platform and program devoted to just that. The i.L.E.A.D. program (Inclusion, Learning, Engagement, Action, and Development) is designed for employees to share their knowledge and voice. 
i.L.E.A.D. is best likened to an internal TED Talk Platform. We have so many employees with unique backgrounds, skill sets, stories and ideas that are worth sharing and iLEAD gives them the opportunity to do that. 
Employees submit presentation ideas, and if they're selected they are coached on how to give a world-class presentation. Then, they deliver to the entire global team. The platform helps elevate learning and inclusion, and it gives selected employees an opportunity to build their resume. They also get quality facetime with senior leadership.
6. Some Measurement Is Far Better Than No Measurement 
Our programs have just started and with that, so has measurement. We are a high growth company, in its infancy. We need to crawl before we can walk. 
Many companies look at measurement as existing in the extremes: Either overly simple (i.e., attendance) or overly complex (high budget and requiring a people analytics team). But, the reality is that there are useful and impactful ways to measure the effectiveness of your training regardless of your size, budget, or resources. 
With their programs just getting off the ground, Osborne is measuring success using: 
Employee net promoter score (eNPS) surveys (aka, "would you recommend this program to a colleague?")

Immediate Perceived Effectiveness Scores on leadership and engagement programs

Six-month Perceived Effectiveness Scores for leadership programs

Six-month Retention and Performance Impact for managers who have been through the programs
This is more than enough measurement to collect relevant data that informs what's working and what could be improved. Their approach is even enough to look at their training's impact on key metrics like retention, effectiveness over time, and performance impact. 
As they capture quality insights from their current process, they're planning and executing on a more robust measurement tool called Workday Peakon Employee Voice. 
With our new measurement tool, we will be able to take organizational measures on program effectiveness for teams and managers at any point in an employee life cycle. Managers will be held accountable for their scores, which they can access on a live dashboard at any time. Every week, direct reports will receive two questions based on the training they went through. Responses will provide us live, aggregated data based on things like employee performance, opinions, life cycle, tenure, growth, production, and attrition.
7. Follow up on Learning to Apply it and Make it Stick
The 2022 LinkedIn Learning Report showed that increasingly employees are looking for learning that's consistent, available in the flow of their work, and designed to help them change their behavior. AML RightSource leverages coaching to reinforce learning between each of their emerging leader sessions. They also use social cohorts over the course of six months after management training. In their social cohorts, they have team channels that they work together in. They can share docs, chat, drop a line, drop a GIF, ask a question, or communicate any way they'd like. They also use pre- and post-work and stretch projects.
We offer a number of stretch projects. For example, Emerge participants are required to do a SWOT analysis of their own leadership and must present it to their managers/coaches and their cohorts. And Rise participants have to come up with a library of powerful questions that can socially regulate tough conversations. Then they have to apply it in their work and do some follow-up reflection that they present to their cohorts. 
The Running Theme for Osborne: Short-Term Execution + Long-Term Strategy 
Often the key to success is to execute quickly in the short-term while at the same time holding a patient, long-term vision. Osborne and AML RightSource strike this balance perfectly. And, in many ways, it's the answer to, "How do you build leadership development at a company that's growing and changing FAST?" From building out programs to expanding and complexifying measurement to creating innovative councils and peer learning platforms…All of it strikes that balance.