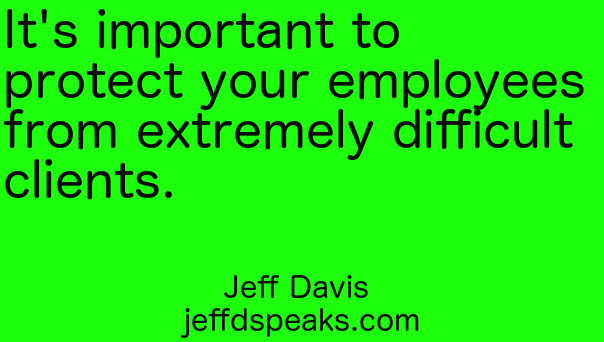 While working for a company in the past, I made a mistake that cost one of our clients $800. I owned up to my mistake.
The client got on the phone with me and for one hour straight, berated me. He said, "You're the worst employee I've ever seen" and "You have no idea what you're doing." I agreed with him and took full responsibility. I didn't appreciate his insults, but it was my error. What else could I say? I apologized, but the client didn't accept my apology.
The CEO of the company I was working for (not the client company's CEO, my company's CEO) got wind of what happened from my boss. My CEO knew I made a mistake, and was fully aware of the aggressive way the client responded. My CEO proceeded to fire our client.
In the six months we had this client, I was their main point of contact with our company. We made them a priority, added a lot of value, and increased their profits. They never took note of the good things we did for them, but quickly pointed out what went wrong. I realize they didn't owe us a "thank you", but a little courtesy in the business world can go a long way.
This was an excellent act of leadership by my CEO. He put me, his employee, before money, profits, and ego. It's important to protect your employees from extremely difficult clients.
Jeff Davis is the author of The Power of Authentic Leadership. This post first appeared on jeffdspeaks.com on December 24th, 2017.