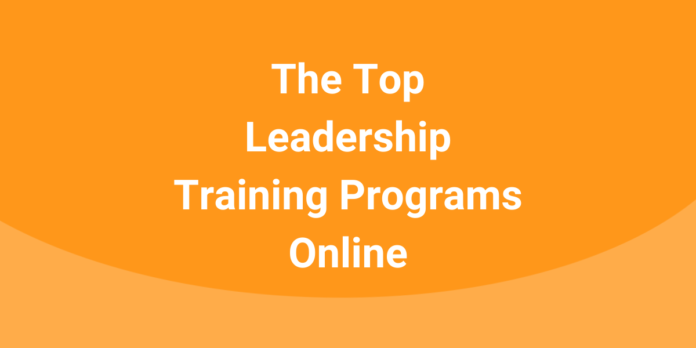 Leadership skills are more important and in-demand than ever before, but also harder to come by. A 2019 study by a job market analytics company revealed that management skills "represent one of the biggest skills gaps in the job market." What's more, the acceleration toward long-term remote and hybrid work has only broadened the leadership skills gap—especially soft skills. Today's leaders must be exceptional at communication, delegation, and giving feedback—just to name a few—to lead high-performing teams and retain star employees.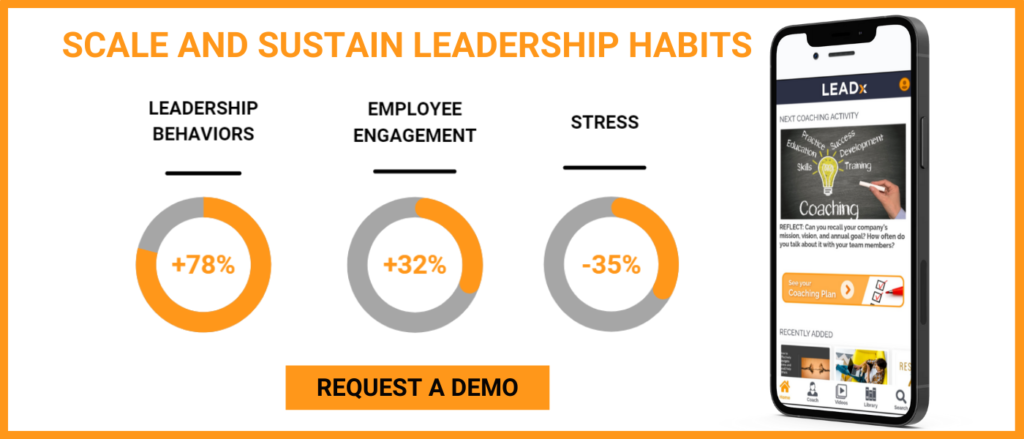 But with the pace of business only continuing to accelerate, managers are too busy for in-person seminars and college courses. And the cost of failing to develop crucial leadership skills is high, as it's still true that people don't leave jobs; they leave managers. Managers need training and development opportunities to thrive as leaders but in a cost-effective, flexible environment.  
The solution? Leadership training programs online. 
Online Leadership Training: On-Demand Remote versus Live Virtual
There are two approaches to online leadership training: self-paced, remote e-learning and live, virtual classes. Both are attractive options with unique advantages.
Self-paced online leadership training offers convenience and flexibility, as on-demand coursework can be completed when and where ever. The self-paced option is advantageous for professionals who don't have time to sit in on hours-long lectures during the workweek. The actual material of self-paced online leadership training is typically broken up into easy-to-digest, bite-sized chunks, and includes a variety of types of content—including articles and videos. Some self-paced e-learning is available via smartphone app, so content can easily be consumed on a commute or in-between meetings. This option generally comes at a lower cost than live courses and is more affordable for an individual.
Live virtual leadership courses offer the credibility of earning a certificate from a renowned university—without the commute to campus. This option offers the ability to listen to lectures from top academic instructors and interact with classmates to create new social connections. The material will more closely mirror that of a college course, complete with virtual classroom lectures, required reading, and homework assignments. The time and financial commitment for live virtual online leadership training is generally higher, as earning a certificate from a university often requires completing multiple, multi-week courses. 
Topics Top Leadership Training Programs Cover
The topics and learning outcomes you should look for from an online leadership training program will depend on the level of leadership experience.
Whether self-paced or live-virtual, new managers should look for programs that cover topics like:
Delegation

One-on-One Meetings

Effective Feedback

G.R.O.W. Coaching

Behavioral Interviewing
More experienced managers should look for courses that cover:
Emotional Intelligence

Coaching Skills

Change Management

Conflict Resolution

Fostering Inclusion and Belonging
Cost of Online Leadership Training Programs
When it comes to evaluating options for online leadership training, the price tag is an important factor to consider. The cost of self-paced, on-demand learning varies widely, but can be as little as $10 per month per leader for programs like LEADx.
The cost of live virtual online leadership training also varies, but the Center for Creative Leadership's "Maximizing Leadership Potential" course costs $4,400 for 20 hours of programming over five days. Wharton School of the University of Pennsylvania's Leadership & Management Certificate Program is $3,600 total or $995 per course.
There's also the return on investment of leadership training to consider as well. It's no secret that learning new leadership skills is different than actually applying them on the job. Studies have shown that, within just 24 hours of attending a training session, attendees will forget 70 percent of the information presented. It's important to think about how you will integrate your learnings into your day-to-day work, as well as if and how the investment in online leadership training will impact your potential for salary increases and promotions.
The Top On-Demand Leadership Training Programs Online
If self-paced, online leadership training sounds like a fit for you, it's important to find a provider that combines ease-of-access and ease-of-use with built-in accountability. Today, LEADx is the only mobile-first leadership development platform that combines behavioral science and expert insights with artificial intelligence. LEADx, with AI-powered Coach Amanda, is designed to build and sustain habits with personalized nudges, micro-coaching, micro-learning, and assessments. 
The LEADx leadership training app offers online and mobile courses on topics like: 
Giving feedback

Communication

Leading remote employees

Effective one-on-one meetings

Servant leadership
In addition to video courses, summaries of best-selling leadership books, webinars, and podcast episodes, LEADx also comes with DISC and Growth Mindset personality quizzes and micro-coaching plans on topics like developing a growth mindset and adaptability. Once you start a self-paced coaching plan, Coach Amanda will keep you on track with nudges and reminders. LEADx was developed upon a foundation of research that reveals repetition and reminders are good ways to learn. Coach Amanda, powered by the artificial intelligence of IBM's Watson, sends push notifications reminding you to engage with your coaching plan and serves up content that's personalized to your leadership journey.
In 2020, LEADx won the Best Innovative/Emerging Tech Solution Award in the Learning category at the HR Tech Awards. The judges were impressed by the positive outcomes LEADx brought about for customers. Across the board, leaders who used LEADx experienced:
Increased managerial confidence

Decreased stress

Increased productivity

Increased employee engagement-driving habits
What's more, people love using the LEADx app and interacting with the content. Users typically open the app eight times per month, but a user group from Accenture interacted with Coach Amanda more than 17 times per month, on average. Accenture deployed LEADx to graduates of the Women in Leadership program, who were one year away from potentially making partner. After the first quarter of use, an evaluation of the program found that 97% of participants wanted to keep the app.
Alisa Miller, CHRO at IAT Insurance Group, introduced LEADx to her team to improve employee engagement.
"We've had really overwhelmingly positive feedback," said Miller. This feedback included: 
"I love the phone app." 

"The regular reminders and tips were nice. I enjoyed listening to the various podcasts/webinars and I found the information to be current, relevant, and easy to follow."

"Coaching and new ideas you can put to work each day." 
"We have quite a few other leadership training and development offerings, but this is different in terms of the artificial intelligence aspect," Miller added. "Our leaders feel fully supported when we can give them a tool like this that takes what they're already doing to the next level. It's a compliment to what we already offer and a very on-demand, in-the-moment solution."
The Top Virtual Classroom Leadership Training Programs Online
If virtual classroom leadership training is more your style, finding a vetted, highly-rated program is key, along with an understanding of how the required coursework will fit into your schedule. Here are a few of the top programs.
Maximizing Leadership Potential – The Center for Creative Leadership
Cost: $4,400
This program is best suited to new or first-time managers and covers topics like delivering constructive feedback, holding performance conversations, and listening for understanding. One advantage of CCL's programs is intentionally small class sizes, and this course offers a faculty-to-student ratio of 12:1. The online course spans four hours per day for five consecutive days (CCL also offers "Maximizing Leadership Potential in-person over 2.5 full days). This program runs on a fixed class schedule, so make sure to register in advance.
2. Leadership & Management Certificate Program – Wharton School of the University of Pennsylvania 
Cost: $3,600 total, or $995 per course
Wharton's leadership certificate program is designed for experienced, high-potential mid-to senior-level managers. The program's main advantage is flexible start dates and reasonable weekly time commitment for busy executives. The program covers topics like motivating employees, creating an organizational architecture, and strategic leadership and vision. Earning the certificate requires completing four courses, each of which takes about 4-6 weeks to complete, with 2-4 hours of coursework per week.
3. Leadership Principles – Harvard Business School Online
Cost: $1,750
Harvard's Leadership Principles course is ideal for aspiring leaders, as well as new leaders and early-stage entrepreneurs who want to learn techniques for developing high-performance teams. The program leverages self-assessments, 360° feedback from colleagues, and the perspectives of fellow participants to help students build self-awareness and improve the versatility of their leadership style and approach. The program spans six weeks (including two weeks of pre-work). For the four weeks of the main programming, participants can expect to spend 7-9 hours per week completing coursework. The course is offered approximately once per month, so make sure to register in advance.
Regardless of whether you opt for self-paced or live-virtual online leadership training, the most important aspect of the decision is what will work best for your budget, work schedule, lifestyle, and goals. There is no one-size-fits-all program for leadership development, so be sure to do your own research to determine what type of online leadership training will help you achieve the outcomes you're looking for.   
If you're interested in a complimentary demo of the LEADx system to see if it fits your online leadership training needs, just request a demo at https://leadx.org/demo-request.