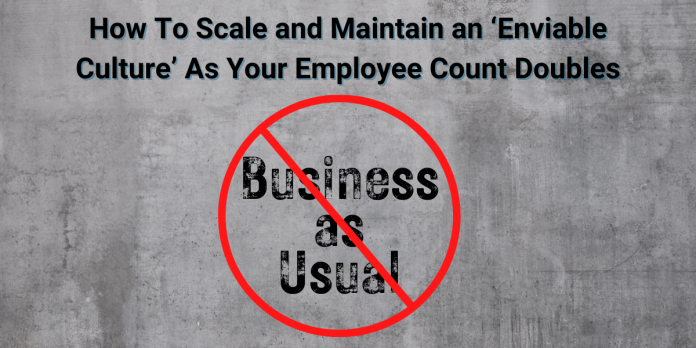 "As we grew rapidly and turned people over, we proactively tried to protect against a disintegrating culture.  Our solution was to create an exceptional workplace culture in a democratic way, using employees to shape what their experience looked like." —Susan Page, Head of Employee Engagement and Organizational Effectiveness at a small biotech company
How do you scale and maintain great culture while your employee count more than doubles? 
Susan Page served as the Head of Employee Experience and Organizational Effectiveness for two years at a small, rapid-growth biotechnology company that was acquired earlier this year. Page arrived at an inflection point: There were a ton of loyal, engaged employees and at the same time, tons of new hires and new locations were being added. And all of this transpired at the height of the pandemic. Over her two years, the company grew from 210 employees to 450.
Proactively, the company leadership brought in Page with the explicit goal of growing and maintaining an "enviable culture."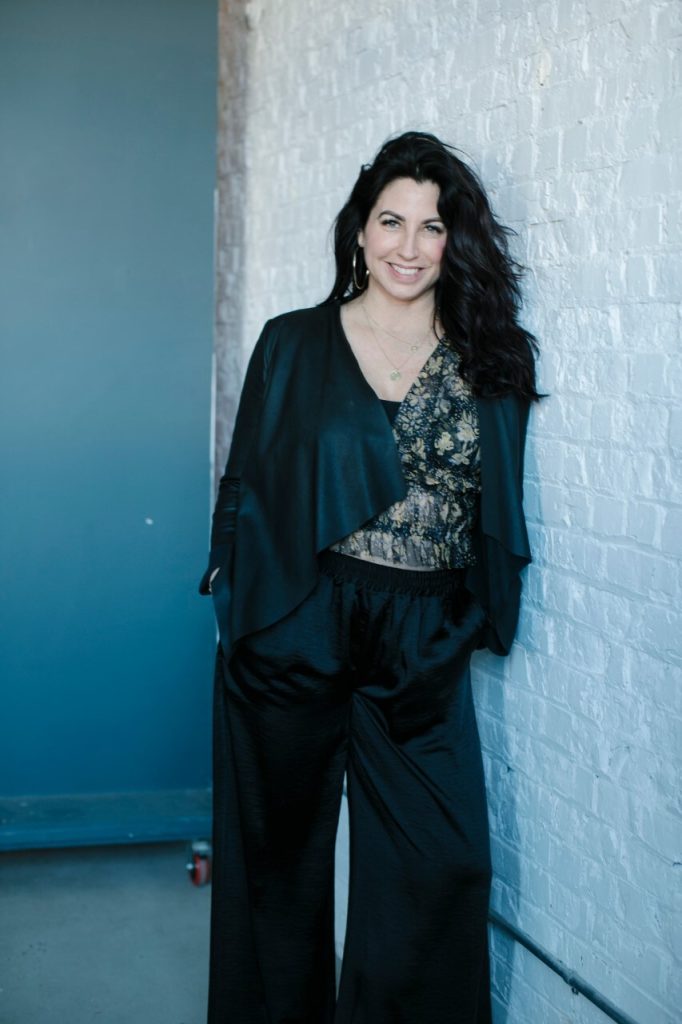 The Key To Growing and Maintaining an Enviable Culture? Co-Creation With Employees
"It's for the people, so it should be by the people."  —Susan Page, Head of Employee Experience and Organizational Effectiveness
Page came on board to an overwhelming amount of change. "When I came on, the majority of the people had a tenure of fewer than two years, and there was a huge segment of zero to six months tenure," she said. "You really have to be cognizant about saying things like, 'Well, what we used to do…' because there is no 'used to.' Your target audience when you say something like that is the minority, not the majority," Page added. 
Page's solution was to create a grassroots, employee-led program. She put together a 13-person "Culture Council" selected from 30 applicants. Each applicant either wrote an essay or recorded a video about why they wanted to be a Culture Champion. "The idea behind the Culture Champions was to set up a framework that would catch the greatness of the existing culture, move the culture forward with intention, and then have our employees bring to life what that looks like," Page said.
The Curriculum That Upheld Their Enviable Culture: Facilitated "Culture Conversations"
The curriculum for their culture program stemmed from the company's "2025 Key Business Results," or 2025 Success Vision. The curriculum itself consisted of two ninety-minute sessions facilitated by Culture Champions. In the sessions, Champions facilitated a discussion around what shifts would need to happen in their culture to achieve those key milestones. Notably, one of their key business results was to sustain an above-benchmark engagement score.
The curriculum consisted of discussions around making the shift from Culture 1 (C1) to Culture 2 (C2). C1 refers to the current culture, and C2 refers to where they need to shift to achieve their business results. "What happened in those sessions," Page said, "was that Champions facilitated conversations and captured responses. The shifts that came up through these conversations then became the intentional behaviors we wanted to exhibit as an organization." 
For example, one thing that tends to happen in rapid-growth environments is that people who have been around longer start to say, "We did that before, and it didn't work." Through these Champion-led sessions, Page's company decided that a critical shift from C1 to C2 would be a narrative shift:
From

saying, "We did it that way before and it didn't work." 

To

saying, "We did that before, this is what we found out, and I'm curious to hear what you are thinking this time?" 
This "from-to" shift helped push their culture toward openness and curiosity. 
The curriculum reached all employees, and it became a part of onboarding. To continue to improve their facilitation and iterate on the curricula, the Culture Champions met each month to talk about what was and wasn't working. 
Select Champions For Passion, And Train For Facilitation
Page attributed the success of their Champions to three unique aspects of their approach: 
First, their simple intake approach. Applicants could either write 200 words about why they wanted to be a Champion or they could record a short video. 

Second, they selected diversely across teams and levels, from director level down to entry level. 

Third, they didn't select for charisma or facilitation skills. Instead, they selected for "the people with fire in their belly around making a great place to work." 
Page emphasized the importance of that third point, saying, "You don't need someone charismatic to be a Champion. What you need is somebody who's authentic and genuine that people root for. We changed our target profile a bit to target people who were passionate about protecting, growing, and evolving the culture. If you had that, you didn't have to demonstrate that you could stand up and facilitate a curriculum."
To make up for a lack of facilitation experience, Page then held a train-the-trainer to bring Champions up to speed. Then, she intentionally paired Champions with teams cross-functional to their own. This helped the organization execute on its commitment to development by broadening participants' exposure across the organization. 
Page said, "I was lucky to partner with my new team member, Shannon Levy, during the launch of this program. She spent a significant amount of her time helping this group develop and coalesce as a team. With her leadership, they became a very high-performing team as we went into the acquisition phase."
 "Selling" Employees On The Concept Of Champions
If you're in leadership development, the more cynical side of you might be saying, "Yeah, but this is a huge time commitment for Champions. How did you get the Champions to actually want to do this on top of their current role?" But, Page designed the program with this question in mind. "Everybody's so busy," she said. "You have to answer the 'what's in it for me?' question as you're recruiting your Champions, not after." Page said, "The key to marketing the Champion role was to be truthful. We told employees that this program was a huge development opportunity. That it would give them more voice as it involved co-creation. We asked them, 'do you want to solve real business challenges?' 'Do you want an opportunity to influence our Senior Management Team and shape decisions that impact the entire organization? 
On top of that, Page leaned on their story as a rapid-growth biotech company. "This company," Page continued, "could easily have become like any other small to mid-size biotech that sees the evolution of culture go downhill as the business takes off. We rallied around flipping that script, saying, 'We don't want to be that. We want to protect and evolve this culture in a meaningful way.'" 
Then, crucially, Page delivered on what she said the Champion role would be. They didn't give them "soft" work. Instead, they gave Champions hard business issues. "For example," Page said, "We would come to them and say, 'We're hearing our leaders are having trouble giving feedback. What do you think we should do?'" These real challenges legitimized the importance of the Champion position and brought the company new perspectives and ideas around those challenges. To keep Champions motivated and inspired, Page worked constantly to tell Champion stories at town halls, in their newsletter, and on their intranet. 
The Results: Culture Champions Became A Strategic Asset To The Executive Team
The Culture Champions facilitated highly effective, well-received conversations around culture. They then took these conversations and mapped out key behavioral changes for the company to rally around. 
That result was the goal of the program. An unforeseen result was that the Culture Champions became a strategic asset to the executive team. When Page's company rolled out an employee experience survey, the executives looked at the data and asked the Culture Team, "We have the data, so what do we do with it?" Based on how useful the Culture Team's response was, the executive team made a point of bringing the Culture Champions team into important conversations and initiatives from that point forward. 
Page said, "I would tap into the Culture Team all the time as we did things like reimagine work through the pandemic and decide whether to mandate that people come to work. We had made sure from the outset that the Culture Champion network was diverse as a group, diverse across functions and geographies, diverse across levels, and diverse across workplace categories. That was intentional because as we started to evolve, we needed an established and encompassing employee voice to draw on."
Managing An Acquisition with Grace 
"It's not business as usual, but it is mission as usual." —Susan Page, Head of Employee Experience and Organizational Effectiveness
Growing and maintaining an enviable culture through extreme growth is an impressive feat on its own. But on top of that, Page's company went on to serve as a rare, positive example of a biotech company upholding its culture through an acquisition. Page operated under the motto that "It's not business as usual, but it is mission as usual." To them, this meant staying focused on helping patients and their families. 
Levy and Page helped the Culture Champions to transition their "Culture Conversations" to "Real-Talk Conversations" about the acquisition. Levy used her deep L&D expertise to pivot the content from a workshop-style session on culture to a workshop exploring change frameworks and having vulnerable conversations about the impact the acquisition was having on the culture. They used Real-Talk Conversations to communicate transparently about what was happening. The sessions weren't designed to air grievances. Rather, the sessions were designed to ask employees:
What are your hopes and desires? 

What do you think about this acquisition? 

What does this mean for you and for our company and patients? 
Page said they consistently received feedback like, "I've been through three acquisitions. I've never felt more heard, more supported, or more in the loop than I have during this one." Page said, "We made a commitment to share everything we can and to respond to what we know our employees want to hear. And we knew what they wanted to hear from our pulse surveys and our Culture Champions."
A Process To Emulate For Fast-Growth, Changing Companies
It's almost a shame that Page's company was acquired. It would be fascinating to see how the culture may have continued to evolve with such an impactful, proven framework in place. How might the Champion-led process have supported a second doubling in employee size? As Page moves on now into a role as Chief People Officer at a new small, fast-growing company, we may just get to find out.