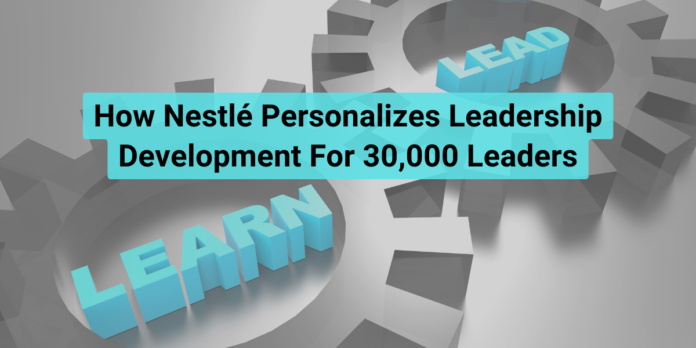 Scaling leadership to 30,000 leaders is a massive challenge. Imagine doing so in a way that's highly personalized to each leader and their challenges and needs. 
It sounds like a pipe dream, but in this interview, Adeline Looi, the Global Head of Integrated Leadership at Nestlé, described how her team does exactly that.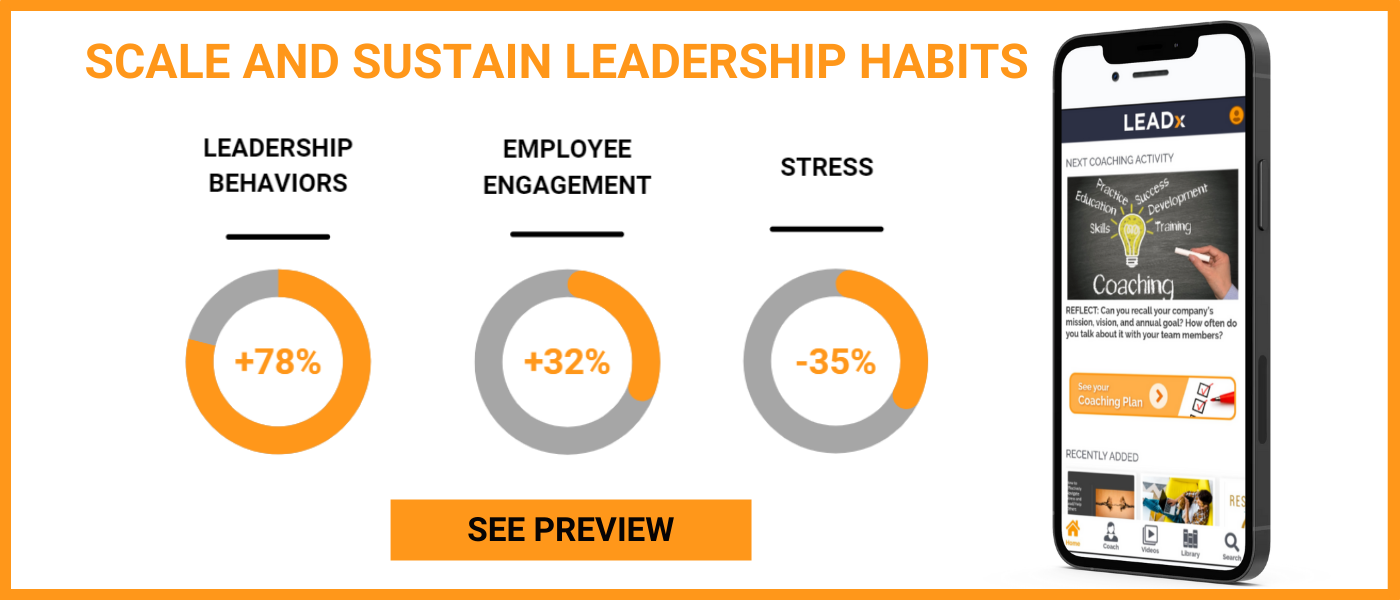 For other Nestlé-sized companies, Looi's interview is a masterclass in building a leadership development program that ties to different business needs and geographies. For companies smaller than Nestlé, her interview is full of insights into how to personalize leadership development and design a thoughtful experience for participants.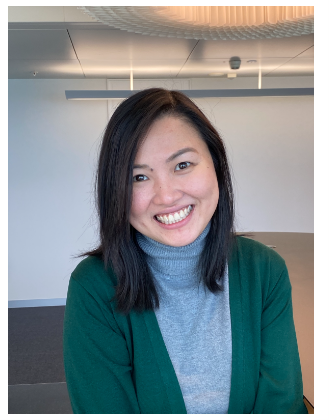 This interview has been edited for length and clarity.
The Key to Scaling to 30k Leaders? Big Picture Alignment + Local Freedom
Kevin Kruse: Nestlé has 273,000 employees and 30,000 leaders. How do you scale training? 
Adeline Looi: For big companies like us, there are several ways to scale. Some companies are structured so that Corporate communicates the strategy and drives the implementation plan, and regional/local markets execute accordingly. Then, you have the opposite where Corporate doesn't intervene at all. Local Markets are free to do what they want as long as they are succeeding in their contribution to the business.
Nestlé falls on a spectrum in between the two. We have global strategies, roadmaps, frameworks and principles. But, we also have a substantial piece that's local, where regional geographies and categories have the agency to decide how they want to execute on our bigger strategy. So if you imagine it, it's more like handrails than handcuffs!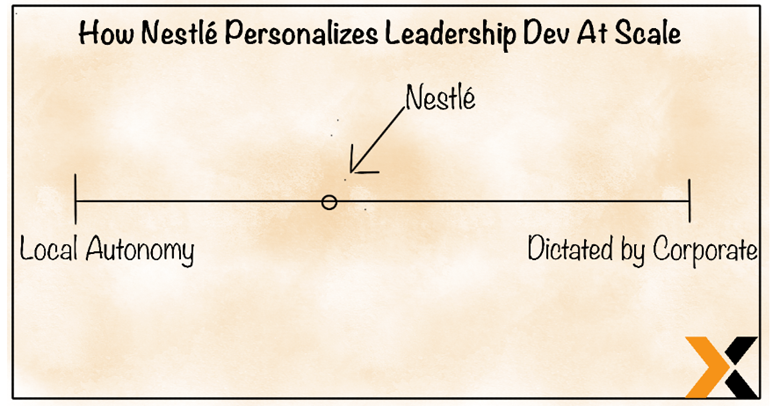 We have our global Nestlé Leadership Framework, which is embedded in every single Talent and HR process and is a key backbone to our employee experience. This is a framework of our leadership behaviors and beliefs that every single Nestlé employee needs to embody, underpinned by our purpose and values. 
But the expression and implementation of this framework is localized and multipronged. Each piece of the framework plays out within the local context in a way that makes sense for them, as we believe fully in empowering our markets and our people on ground. 
Personalized Learning Journeys Prove Value and Win Engagement 
Kruse: What would you say is your core philosophy around leadership development? 
Looi: Curiosity. You have to get each person to be curious. If they don't know what they need, if they don't know what will help them, then it's very much just dumping content on them. This was one of the key learnings through COVID. People's schedules were packed with meetings and they kept saying, "I don't have time to develop anymore."
That's when we realized it's not true that people don't have time. The problem is that traditional education and training approach is too much of a "spray-and-pray", vs it being targeted and personalized. We only have so much cognitive energy. Our cognitive budget is limited and we wanted to allocate it deliberately and accurately for our growth. 
We decided that to overcome that problem, we'll have leaders drive their own leadership development. With that sense of agency comes curiosity. We don't dump training content on them over a period of 18 months. Instead, at a key point of transition or at point X, we have leaders choose and build their own roadmap. That personalized leadership journey is then something that the leader or the employee owns, and it answers the whole "what's in it for me" from the get-go. 
Learning Simulations Bring Learning to Life for Emerging Leaders 
Kruse: What kind of training do you have for emerging leaders? 
Looi: As we look at our research and data, we find that less and less people want to be people leaders. That's because it comes with a burden. A lot of people don't transition well—sixty percent struggle within their first 12-18 months, and that number is staggering. And, it's not just tough for the new team; it's also tough for the leader. It's a highly stressful time. So, we built a journey that helps employees transition from individual contributor to a first-time people leader. 
We created a first-time people leader development center. It's a simulation where emerging leaders go through different role plays and simulations around being a first-time people leader. The simulation helps show these emerging leaders how different this new leadership position is from their work as an individual contributor. 
Kruse: What do these simulations look like in action? 
Looi: Here's an example with the leader of an intact team: The leader of an existing team learns they're going to inherit six more people as the result of another site closing down. They're all virtual. How do you then put the teams together, matching their strengths in an inclusive manner? How do you create an environment of psychological safety and trust? How do you work with hybrid and remote team members? How do you communicate change in a way that's understandable, but that's also credible? How do you position yourself to provide support to the team? 
In this example, the participant reads a communication from their boss about the merger. Their boss asks them to connect with their new team members, communicate the change, help them understand why they need to relocate, and start to get a sense for their strengths and areas of interest to match them to the right projects moving forward. There's also an overarching business story that the scenario connects to. 
The leader gets a period of time to prepare, then they go into interactions virtually. Some people are off camera, some people are on. The people role playing as new team members are also observers who will later offer feedback. Role players aren't just from HR. They're also business leaders who want to see their young leaders succeed. The business leaders get trained on how to role play and be observers. Later on, they will also mentor and coach these young leaders. 
We believe a lot in double-loop learning, so at the end of the day, they watch back a recording of themselves in action and reflect based on prompts. In reflection, they highlight what they did well and how they could have improved. They watch their own body language, the words they said, and the impact they had. They also have the opportunity to buddy up and exchange recordings with another leader. This helps move the conversation away from feeling like an evaluation or a judgment and toward helping one another grow. 
The reflections and feedback session end with a loop back into the young leaders' personal development planning session with their line manager. Their manager helps support them with continuous development through their transition. The young leaders also get access to our Leaders' Academy, which is a one-stop-shop for their learning needs based on the areas identified. Lastly, there is upward feedback that happens 9 months after to measure behavior change, so they can get a good sense of progress.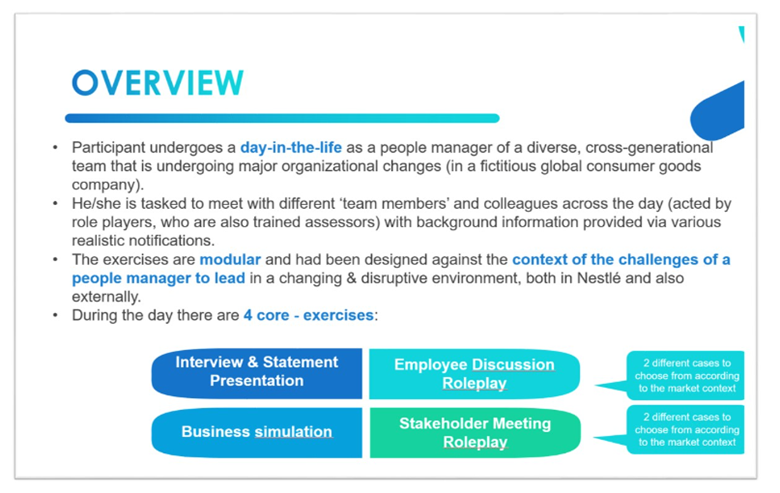 Kruse: How has the response been to these simulations?  
Looi: The response has been strong at the individual level. Emerging leaders weren't able to spend three or four days in a workshop, but they were keen to invest eight hours into something directly meaningful to them. It's eight personalized hours: Six hours of interactions and two hours of reflection, feedback, and facilitated learning. Many leaders said this is the most impactful intervention they've been on for the first eight, ten, fifteen years of their career. When we ask them why, they say, "Because it was about me." Then, the program just took off because of referrals. Our Net Promoter Score (aka "likelihood to recommend") was 98%.
We started small with 2 pilots in Europe and LATAM, and now, this is running in 25 markets and regions all around the world, and often, in their local languages. 
On an organizational level, we have also been getting very positive feedback on the benefits. Every time a market runs this Development Center with their emerging leaders, we get collated quantitative and qualitative data (anonymized, of course) which also feeds as inputs into our global leadership development strategy. This helps us understand where the biggest strengths and areas of opportunity are for this target segment. Then, we can pivot and adjust some of our global offerings. 
Looi's Advice for Leadership Development Pros: If You Want to Scale, Start with Needs  
Kruse: What advice would you have to those who are just starting to try to figure this out and to implement it? What would you tell them? 
Looi: If you are like us at Nestlé and your objective is to scale, then you have to start with the end in mind. That means whatever you're designing cannot meet the needs of just a few people in an ivory tower. It's got to be so relevant. It's got to be close to the business and close to the user. That's why I always recommend that you start with design thinking: You design the interactions or the outcomes based on what the people need, not what HR needs. 
When it comes to scaling, think about ways that you would be able to put guideposts in for calibration and for getting more people involved as part of the community. Because then, when you have a pool of assessors, when you have a pool of business observers, you don't just get traction, but you get the ability to weave in and weave out and support one another across markets. 
The Perfect Combination of Empathy and Trust  
Nestle's ability to scale such a personalized approach revolves around empathy and trust. Empathy is required to personalize leadership development plans for each individual, and to truly understand the business, geography, and challenges of each audience. Trust is required to scale, and to let local businesses tailor these simulations to their own people and challenges.