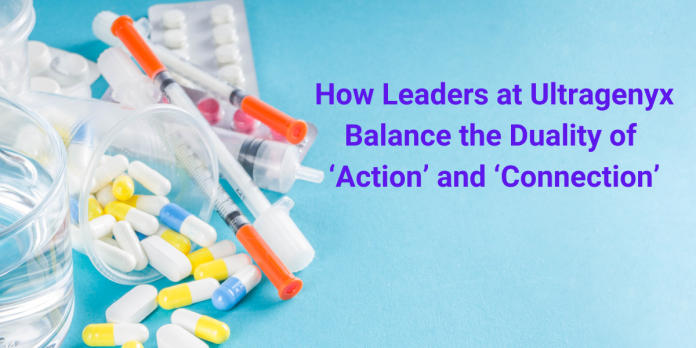 "I think of great leadership as a constant dance between leveraging Action and Connection. When you dance at the intersection of the two, you have the most power as a leader, and the most power in your work."
—Bria Martin, Vice President, Culture & Organizational Strategy at Ultragenyx 
Ultragenyx is a rare disease biotech company that researches and develops drugs for small populations of patients with high unmet medical needs. Since day one, Ultragenyx has been a purpose-built company with a huge vision: To lead the future of rare disease medicine. For the company, this means having a truly patient- and caregiver-centered approach and treating as many rare diseases as possible. This mission, of course, attracts incredible people who rally around the company's strong sense of purpose and impact.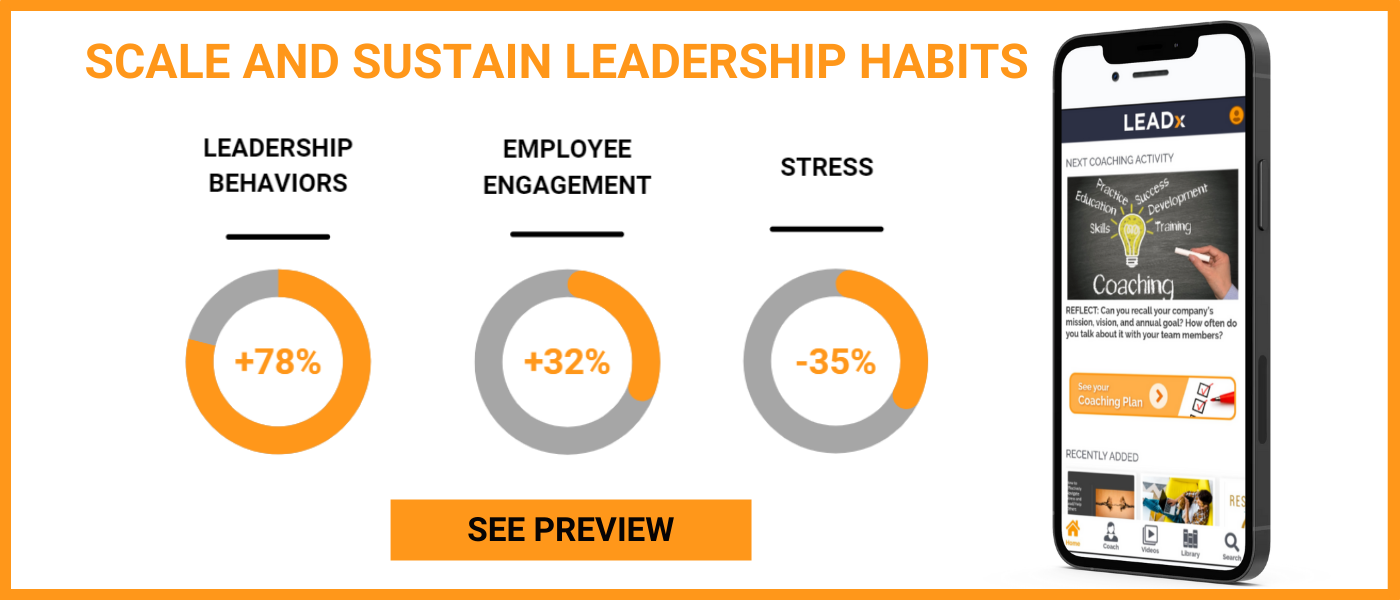 Bria Martin, the Vice President, Culture & Organizational Strategy at Ultragenyx, is responsible for the development of their 1300 employees and 400 people managers across North America, Latin America, Europe, and Japan. Martin's small yet mighty organizational development team of four delivers over one-hundred offsites and programs per year. 
Much like how Ultragenyx is driven by a deep sense of purpose, Martin is driven by her own unique and purposeful philosophy around leadership: The balance between "action" and "connection."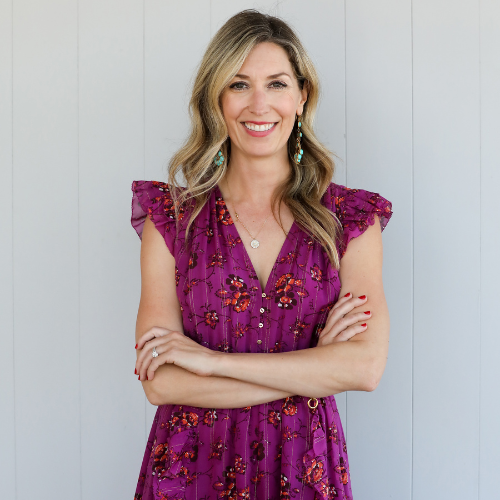 The Five Values That Drive Leadership Development At Ultragenyx
"​Eight years ago, we collaborated with the executive team for two days to curate and align on these words, our values. We had to make sure the values had meaning and reflected the heart and soul of the company. Since then, we've made them the foundation for everything we do and how we want to do it."
—Bria Martin, Vice President, Culture & Organizational Strategy at Ultragenyx 
Martin worked closely with the executive team to embed the core Ultragenyx values across the company. "We built a competency model around our values, and in doing so, created a language around our values for how we can model them," Martin said. "The values and competency model became the foundation for our leadership development program."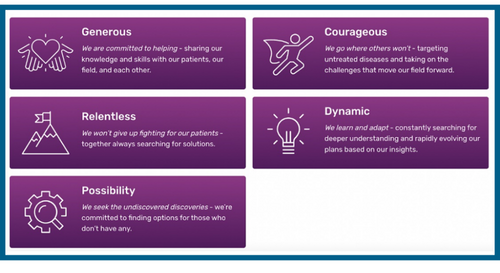 Martin said, "The values pretty quickly became this litmus test for so many things that we're doing, not just in my team, but other parts of the organization too. People really do stop to ask, 'Are we being generous? Are we being courageous?'" 
Based on the five Ultragenyx values, Martin and her team created competencies and mapped out the key behaviors beneath each competency—for Self, Team, and Organization. By co-creating the values with the executive team and then building out training based on those values, Martin and her team ensured strategic alignment with the executive team and the business goals they set each year.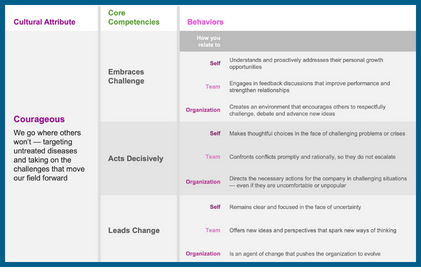 Their map of key behaviors then drove the topics for their leadership development program. Their measurement for a successful program was simple: Does this program help them strengthen these key behaviors?
Martin's Personal Philosophy That Drives Her Work In Leadership Development: The Action-Connection Balance
Martin's core philosophy around effective leadership is that leaders have to "dance at the duality between action and connection." She said, "I think of the balance between 'action' and 'connection' as an infinity symbol that's a continuous flow between both sides, and working together, they can have a profound impact." On one side of the infinity symbol, you have Action, which Martin breaks down into what she calls the four A's:
Ambition

Accountability

Advancement

Achievement
These are all forward-looking, action-oriented qualities.
Then, on the flip side of the infinity symbol, you have the Connected qualities, which Martin calls the four C's: 
Compassion

Creativity

Collaboration

Community
"Often," Martin said, "I see an imbalance of one or the other side in organizations." 
"Many companies," Martin continued, "Will double down on the action side to produce results and get things done." When Martin came to Ultragenyx in 2015, for example, she described the company culture as very strong on the action side. Employees were hyper-focused on getting a huge amount of things done with a small number of people – in a very timeline-driven environment where patients are waiting for treatments, so the sense of urgency is high. Martin said, "When I arrived at Ultragenyx, I focus-grouped every single employee. While the commitment to the company vision and mission was incredibly strong, the connection side was struggling. There was so much emphasis on action that it was actually draining and depleting them. I knew we had to strike a balance by focusing intentionally on strengthening the connection side." 
Martin's philosophy helps her quickly diagnose and fix organizational challenges and coach others. It also gives her the language she needs to communicate her approach. "When I see that imbalance within individuals or their teams, this framework helps me to say, 'It looks like accountability actually might be at a bit of a deficit. How do we increase that on your team? Or, it looks like your team would benefit from some intentional community building; let's spend some time on that in your offsite.'"
Martin also uses the framework to ensure her workshops build skills on both sides. "For example," Martin shared, "I was coaching a leader the other day. I said, 'I feel like sometimes you are focused on driving and speed, and other times you're so caring. But you can actually create a space for both accountability and compassion to be alive and present on your team at the same time. It doesn't have to be compartmentalized.'"
Scaling Leadership Development To Every Level
Equipped with strong values at both the organizational level and leadership level, Martin set out to design and deliver their leadership development program. 
Many mid-market-sized companies don't have the budget or team to scale leadership development opportunities to each level of leadership. Martin does. With her small team, she has managed to scaffold their offerings to meet the unique needs of each level: 
Senior leaders go through the Leadership Development Program (LDP).

Director-level leaders also go through the LDP as well but in separate intact cohorts. 

Frontline Leaders go through the "People Manager Program." 

High Potential employees go through Leadership Expansion And Development Program (LEAD). 
And Martin isn't just reaching every level of employee. She's creating a huge impact. Some key results she shared include: 
78% of their first three LEAD cohorts were promoted within one year of completing this program

Maintained a high engagement score of 86% in our 2022 employee engagement survey.  

95% of employees attended at least one of 70 development workshops offered in 2022

25% of new hires came through our employee referral program in 2022

90% of employees feel that their managers support Inclusion and Diversity in the workplace, 88% feel that their managers model inclusive behaviors, and 87% feel that their managers create an environment of belonging.
The "People Manager Program" Helps Scale Culture Through Frontline Leaders
Martin and her team have rolled out the People Manager Program for frontline leaders in three parts, in-person or in an interactive Zoom.
Part One: Leaders focus on building their self-awareness. They use the Insights tool to get a foundational sense of their management and communication styles. 

Part Two: Next, leaders build on their self-awareness by looking at how their Insight style influences how they manage their team. They also look at the different styles of their team members. 

Part Three: Lastly, they focus on building their coaching skills. They learn how to have effective coaching conversations with their team members using the GROW model. For instance, they learn the difference between coaching and feedback, and they learn how to ask powerful questions.
In addition to this three-part program, frontline leaders also have access to over 25 distinct development offerings. The topics include everything from "Presenting Skills" to "Leader Fuel" programs on resilience, energy, and mindfulness. All employees, regardless of level, can also access a coaching tool that pairs employees with coaches for virtual conversations. Every full-time employee has access to these coaching hours, and their utilization's been incredibly strong: 
25% of employees used the tool in 2022.

92% of participants felt more positive about their issue and were ready to address it after their session. 

84% learned a new skill or strategy. 
5 Pieces of Advice for Leadership Development Professionals Stepping into a Similar Role
Martin offered five in-depth pieces of advice for leadership development professionals who were stepping into a role similar to hers:
Advice #1: Practice deep listening. "Listen in every format you can. Conduct interviews and focus groups, and ask powerful questions. This will enable you to find the core need, to meet people where they are, to understand where they need to go, and to see how you can help them get there."
Advice #2: Leverage the "from-to shift." "I paint a picture of the shift we need to make: Where are we today versus where do we want to go? Then, I articulate five or six powerful 'from-to' shifts. This helps illuminate the path they need to take to make that shift successfully."
Advice #3: Get vulnerable. "When I came to Ultragenyx, I made an intentional choice to bring vulnerability into my work and my workshops. I shared the tough feedback I've received, my worst people manager moments, and my parenting stories. This vulnerability shifted the tenor of conversations in the room and invited people to tell their stories openly and authentically."
Advice #4: Use the 80-20 rule with program feedback. Martin used to struggle with perfectionism. She said, "As a recovering overachiever and people-pleaser, I wanted to ensure everyone loved everything. And when I got that one bit of constructive feedback about a program, it would just destroy me. So I had to learn to step back and apply the 80/20 rule: 80% of the people in this organization are going to get something from these programs, and it's going to open their minds and hearts in a meaningful way – to some extent. I need to focus on them and design for them and not focus all my energy on trying to shift the 20%. I don't discount the other 20%, but I try to focus my efforts on the 80% and not let the 20% derail me and send me into a despair cycle when 80% are benefiting from the work I do."
Advice #5: Be a part of the "Transition Team." Tara Mohr coined this phrase when it comes to the work many of us feel called to do to usher in a new era for humanity, in whatever field we are in. Martin pointed out that our current moment in leadership development is seeing a fundamental shift in the future of work. Martin reframed the "Great Resignation" as the "Great Awakening" and "Quiet Quitting" as "Purpose Seeking." She said, "We are living in a moment in history where people have realized they want much more out of work, a much greater sense of purpose and fulfillment in their job. I want to make sure that my kids enter a world of work that I am proud to hand over to them. And not just a workplace where my white, cis-gendered, able-bodied children can thrive, but one where children from all walks of life, backgrounds, abilities can thrive."